Greetings, I am running the newest version of LinuxMint OS and the latest 118 version of the LibreWolf browser which is a privacy oriented fork of the FireFox browser. I followed to the steps in the link below to the letter:
https://docs.start9.com/latest/guides/device-guides/dg-linux/ff-linux#ff-linux
Therefore, I was disappointed to find out at the end of configuring my Librewolf browser my Start9 HTTPS connection does not work. I get the error shown below:
Hmm. We're having trouble finding that site.
We can't connect to the server at xxxxx-xxxxxx.local.
If you entered the right address, you can:
    Try again later
    Check your network connection
    Check that LibreWolf has permission to access the web (you might be connected but behind a firewall)
Try Again

The only way I am able to connect to my Start9 RasPi Server is by typing in the its IP address in my LibreWolf browser URL field. This invokes the Start9 login screen where I enter my password and enter the Start9 home page in a HTTP not HTTPS window.
In an effort to make my Start9 HTTPS to work I performed the following two steps which are not part of the steps included in the link above.
First, I removed the checkmark from the "Query OCSP responder…" parameter (see screenshot below). This did not fix my Start9 HTTPS connection problem.
Second, I clicked in the "View Certificates" button (see screenshot below) which invokes the Certificate Manager window. Inside this window I selected the "Authorities" tab and then Imported the Start9 ROOT CA certificate file I downloaded. I thought this would fix my Start9 HTTPS problem because I saw the Start9 ROOT CA listed inside the Authorities table but much to my disappointment I still cannot get a Start9 HTTPS connection to my Start9 Raspi server working as it suppose to. Only the insecure HTTP connection works by manually typing in my RasPi Server IP.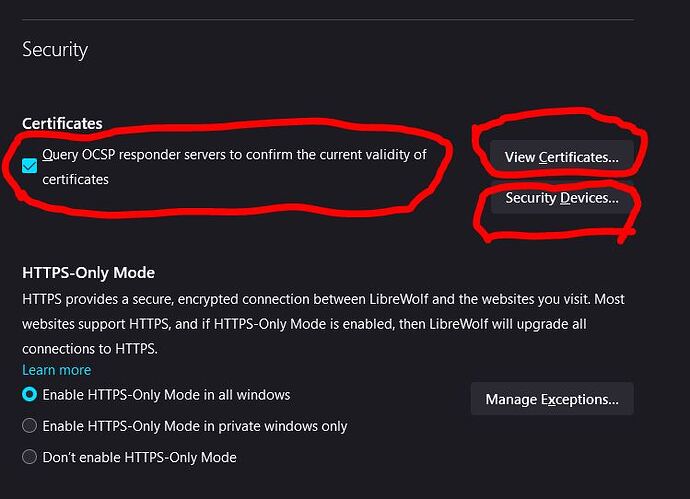 I am new to Start9 and I left Umbrel due to a variety of reasons one of them the lack of HTTPS in Umbrel. In short, I need advice aimed at getting my Start9 HTTPS connection to work in my LibreWolf browser. Below are some of my questions:
Is there any need to make any changes to my LinuxMint Firewall? I have not touched it and I would like to know if I should tweak it for the purpose of making my Start9 HTTPS work?

What LinuxMint browser should I tryout as an alternative to Librewolf that has been proven by Start9 to work with their ROOT CA certificate that results in a functional HTTPS connection?
Any advice welcome. Thank you for your time.