How to install StartOS on virt-manager
(for testing new packages without access to a physical Embassy)

NETWORKING INSTRUCTIONS ARE PENDING
Download the latest StartOS ISO from Github
Open virt-manager
Click "create a new virtual machine"

Click Browse and choose the ISO that you downloaded
Uncheck "Automatically detect", and choose Ubuntu 22.04 LTS for your OS. Other versions of Ubuntu will probably work, as well as Generic Linux. Click Forward.


On the next two pages, choose the resources you would like to allocate.
Single vCPU Core 2Ghz
4GB RAM
64GB Storage (32GB will also work if you're just doing package development)
If you intend to run Bitcoin or store any meaningful amount of data, you will need
Quad-Core CPU 2.5Ghz+
8GB+ RAM
1TB+ Storage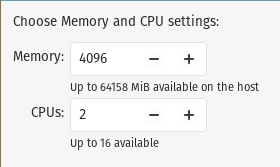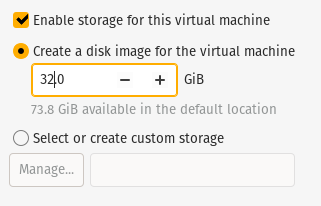 After a few seconds, a browser window will appear inside the VM. Click the disk (the only disk that will exist is the one you created for the VM) under Select Disk, and then click Install embassyOS.

You will get a warning that you're about to erase the disk - that's fine, there's nothing on it.
You'll get an Install Success popup. Click Reboot.
After the reboot, the browser in the VM will show the setup page. If you're installing for package development, click Start Fresh.


Select your only storage drive on the next screen.
Choose a password and click "Finish".
Success! EmbassyOS is now installed on your VM. It runs inside a browser window!
Click to login. (You'll be prompted for your password.)


To begin package development, follow this guide.
Once you've created an S9PK that you'd like to test, inside embassyOS click System in the sidebar, and then click Sideload Service under Manage. When I finish networking my VM, I'll write that up so that sideloading is possible. If anyone else has a writeup for this, I'll include it.