It looks like we may need to enable a few more features on the backend. We have an update that is about done, but I'll look into this for the following update. Thank you for the report!
Ok thanks for the update!
I was also extremely excited about this feature of Memories:
"AI Tagging: Group photos by people and objects, powered by recognize and facerecognition."
This does not appear to be working either, how do I enable these features?
I'll need the error you're getting and I can look into if there's anything required fro the tagging feature
From what i understand, i have to first install the two app dependencies:
Recognize: https://apps.nextcloud.com/apps/recognize
Face Recognition: https://apps.nextcloud.com/apps/facerecognition
I installed Recognize, but it just appears that nothing happened? How do i get it to 'run' and recognize stuff?
I got this error when trying to install face recognition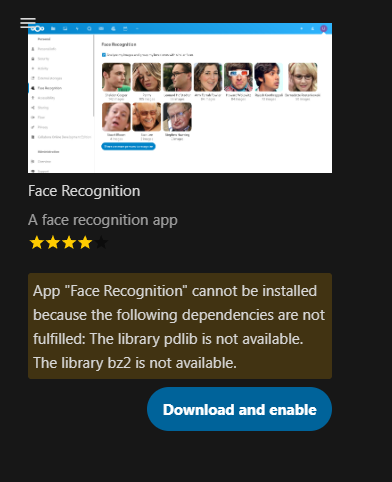 This is the info I need. I will see about including the required dependencies into a future update
Hey, just wondering when we may see updates here?
The original error posted in regard to the Memories app will be addressed in an update that is about to enter beta testing. This also includes an update to the latest Nextcloud server, bug fixes, and some other Memories-related Actions. In regard to the other 2 apps in question: Recognize is actually run from the Administrator settings - and I'm testing this on the new version now. Face Recognition will require some more dependencies/config - I will try to squeeze it into this update, but it may take until the next one.
More generally, it helps expedite development when folks make bug reports / feature requests on the Nextcloud wrapper page. This helps us understand/prioritize bugs, as well as understand what features people desire and get those in line for addition as well. Feedback is also the simplest way to contribute to Open Source.